Children's Dentistry – Casper, WY
Helping Young Smiles Grow and Develop
Adults aren't the only individuals who need proper dental care. The youngest members of your family are most vulnerable to tooth decay and cavities simply because they're still learning how to take care of their smiles. Young teeth and gums need not only the assistance of their parents but also a qualified and welcoming dentist offering children's dentistry in Casper, WY. From regular checkups and cleanings to educational brushing and flossing tips and techniques, Dr. Erin Prach and her team of professionals want your child to feel comfortable, encouraged, and eager to return for future visits. If you're ready to schedule your child's first appointment, call us today!
Why Choose Dr. Erin M. Prach for Children's Dentistry?
Great at Working with Nervous Children
Friendly & Patient Dental Team
Dental Insurance Accepted & Maximized
When Should My Child See a Dentist the First Time?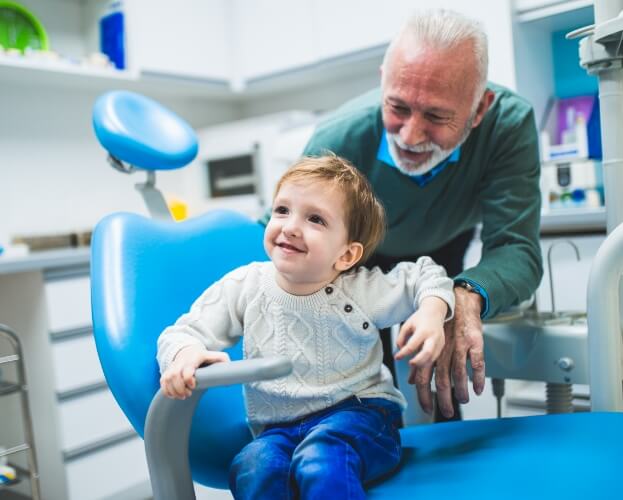 You might be surprised by this answer, but your child should see Dr. Prach and her team when their first tooth erupts or by the time they turn a year old. For the first few years of your child's life, the appointments will be more about establishing a relationship with the dental team, but it will also allow us to get to know your child's oral and overall health, as well as check for any early signs of decay.
This is a time when normal habits can lead to difficulties in tooth growth and development (i.e. pacifier-use, bottle feeding, sippy cup usage), which is why it's important that we carefully watch to see how the teeth are coming in and recommend any possible changes to at-home dental care or habits. We may also suggest that you consider dental sealants for your child to protect them from tooth decay and strengthen their tooth enamel.
As your child grows older, a typical appointment will consist of one of our dental hygienists gently removing any plaque and tartar buildup around the gum line before giving your child's teeth a polish. Then, Dr. Prach will examine their mouth in its entirety, making sure everything is progressing appropriately and there no indications of tooth decay or gum disease.
Kid-Friendly Dental Services Available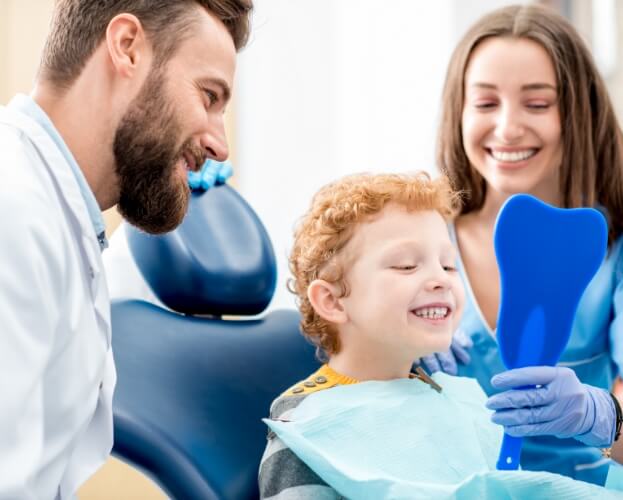 Your family dentist in Casper offers a wide array of kid-friendly services, including:
Checkups and Cleanings
Dental Sealants
Nightguards for Bruxism
Oral Cancer Screenings
Gum Disease Treatment
Tooth-Colored Fillings
Emergency Dentistry
HealthyStart™ System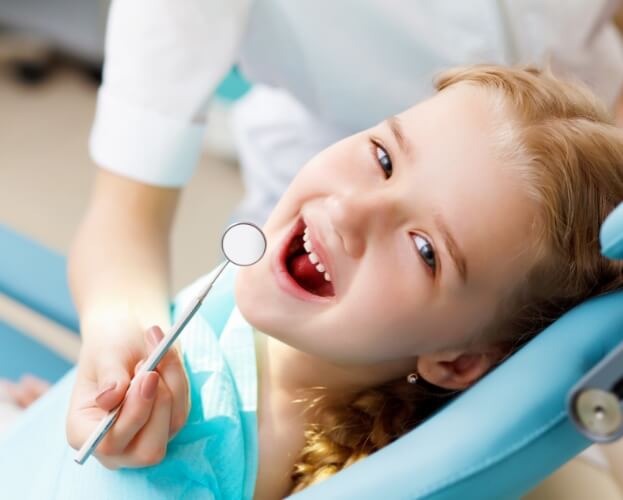 Dr. Prach is a provider for HealthyStart™, which was created by Dr. Earl Bergersen, an orthodontist who practiced for more than 35 years. For nearly 50 years, he has worked to develop orthodontic appliances. With the creation of HealthyStart™, he has been able to address various orthodontic and growth concerns, as well as treat sleep disorder-associated breathing problems and assist in changing bad habits (i.e. thumb-sucking and pacifier use).
The HealthyStart™ System uses oral appliances that are custom-made to your child's individual needs. Worn at night, these appliances control the movement of your child's jaw, tongue, and even their teeth. Using advanced orthodontics, the HealthyStart™ appliance is free of BPA, silicone or latex, and it is FDA-approved. Not only is the process safe and effective, but it is painless and non-invasive.
Some of the most commonly identified oral habits that Dr. Bergersen believes can compromise health include:
Bedwetting
Snoring
Sleep Apnea
Mouth Breathing
Emotional Behavior and Depression
Crowded Teeth
ADD/ADHD
These oral devices can help create good airflow and breathing, as well as guide the jaw and permanent teeth as they come in, and control things such as tongue thrusting or teeth grinding.
If your child has any of the following, they may be a prime candidate for the HealthyStart™ System:
Poor muscle tone in the face and tongue
Narrow, high palate
Reversed lower jaw
Opening between the front upper and lower teeth
Children's Dentistry Frequently Asked Questions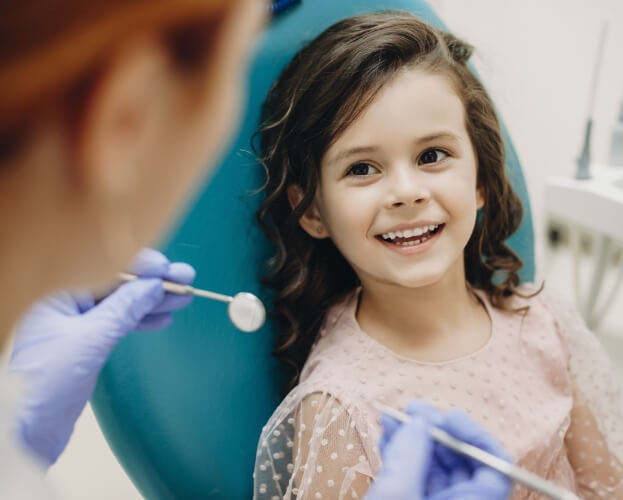 Are you researching great children's dentists in Casper that can also treat more mature patients? Dr. Prach offers comprehensive dental care, and his team is experienced helping younger patients optimize their oral health and learn the best ways to take care of their smiles. Below, we've answered some common questions about children's dentistry that we receive from parents.
How can I prepare my child for their first appointment?
If your child is visiting our dental office for the first time, it's a good idea to prepare them beforehand and let them know what to expect. Try to avoid using terms that can be scary, like "drill" or "scrape". These could cause your child to become anxious about the appointment or develop a negative outlook of visiting their dentist. Here are some fun ways to help prepare:
Read them a fun illustrated story about visiting the dentist.
Have fun "pretend" dental visit where they role-play as the dentist and you as a patient.
Let your child know ahead of time what to expect.
If your child is anxious, be sure to contact our dental office ahead of time and let us know so we can help them feel comfortable.
Our team is experienced caring for younger patients, and we'll do everything in our power to help your child feel comfortable and worry-free, so they can build a positive relationship with our team.
How can I help my child improve their oral hygiene?
The best way to keep your child's mouth cavity-free is to create a daily at-home oral hygiene routine of brushing twice each day and flossing at least once. Some children view this as a chore, which is why we recommend trying to make it more fun by allowing them to pick out their own toothbrush and toothpaste or rewarding them by letting them choose what movie to watch for family movie night. Diligent daily oral hygiene will ensure that their adult teeth grow in healthy.
Is it bad if my child sucks their thumb?
If your child sucks their thumb, know that it's a completely natural and comforting action and there's nothing wrong with it. However, if they don't grow out of the habit, it can cause their adult teeth to grow in misaligned or cause what many people know as "buck teeth". Because this typically occurs at a crucial developmental age, it's important to keep an eye on it. If you need any advice on how to help your child break this habit, or additional information on how your child's thumb-sucking habit can impact their oral health, ask us any questions at your child's checkup and cleaning.