Teeth Whitening – Casper, WY
Remove Those Pesky Tooth Stains Today!
Stains can develop on your teeth for a number of reasons, but that doesn't mean you have to live with them. Store-bought bleaching products often don't have the same potency as what can be found in a dental office. That's why Dr. Erin M. Prach is proud to bring you a professional whitening treatment that guarantees dramatic, lasting results. Whether you'd like to brighten your smile in our office or in the comfort of your own home, we can provide the perfect solution for you. To learn more about whether teeth whitening in Casper is just the treatment your smile needs, contact us today!
Why Choose Dr. Erin M. Prach for Teeth Whitening?
In-Office & Take-Home Options Available
Products Several Times Stronger Than Store Bought
Friendly, Low-Pressure Environment
In-Office Teeth Whitening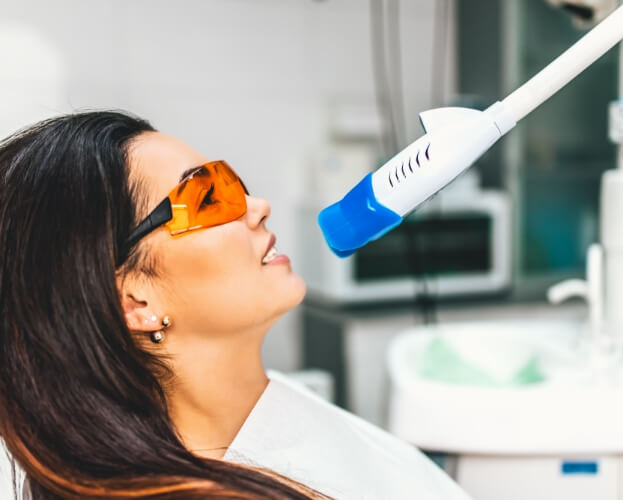 For patients who simply cannot wait to see a brighter set of pearly whites smiling back at them in the mirror, our in-office whitening treatment can often be done in just one appointment that takes an hour or less.
We begin by isolating your teeth to protect the soft tissues in your mouth from the bleaching gel, which is several times more effective than anything you can find at your local drugstore. After applying this gel to your teeth, we activate it with a special light. This light allows the gel to permeate the enamel and attach to the deeply set stain molecules on your teeth. The gel takes about 15 minutes to break down these stains. Once we wipe off the gel, the stains disappear as well. We can repeat this process a few more times to ensure you're satisfied with the results.
Take-Home Teeth Whitening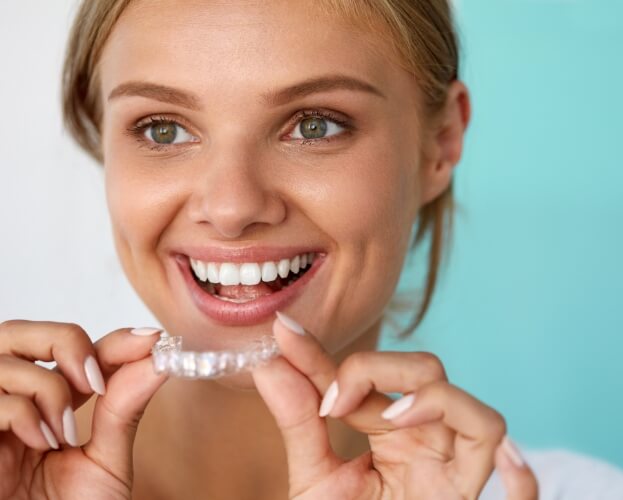 If you'd rather attain gradual results while relaxing at home, look no further than our take-home teeth whitening system. To start the process, Dr. Prach takes impressions of your teeth, using the molds to create personalized trays that fit over your teeth like a glove. Once you arrive home with your trays, simply fill them with the bleaching gel and wear them for a prescribed amount of time a day, typically around half an hour. For most patients, it takes about two weeks of daily use to achieve the same results as an in-office whitening treatment.
Benefits of Professional Teeth Whitening
While over-the-counter teeth whitening products might be cheap, you're much better off getting your smile brightened by a cosmetic dentist in Casper. One-size-fits-all options from the pharmacy don't actually fit anyone as well as they should. This can cause uneven results, and the gel may irritate your gums, tongue, or cheeks. Not only that, but your results will not be nearly as dramatic. Additionally, the treatment is not customized to ensure your comfort. As a result, you're much more likely to experience sensitivity after being exposed to the whitening gel. We make sure to personalize our solutions to minimize any post-treatment discomfort.
Teeth Whitening FAQs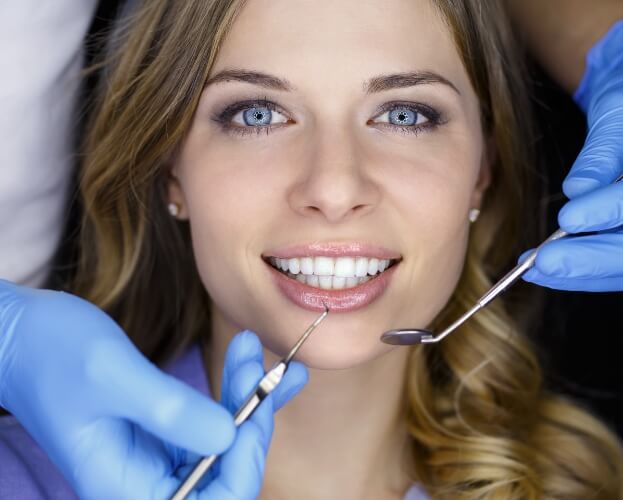 It's never been easier to get a sparkling smile, so what's holding you back? As always, we want you to feel 100% confident about choosing any of our treatments. That's why we've gathered some of the most common questions we get about teeth whitening in Casper for your convenience below. Once you've learned more about it, give your Casper cosmetic dentist Dr. Prach a call today to schedule your consultation!
Does Teeth Whitening Damage Teeth?
If you've tried disappointing over-the-counter teeth whitening products, you probably already know that they're notorious for causing tooth sensitivity and gum irritation. What's worse, if you use these whiteners too frequently, you may end up permanently damaging your enamel! When you choose to come visit us for professional teeth whitening, you won't be taking a gamble on your oral health. Dr. Prach only uses high-quality ingredients that have been tested to ensure they're safe, comfortable, and effective.
Will My Teeth Be Sensitive After Teeth Whitening?
Part of the whitening process involves weakening your enamel a little. This allows the bleaching agents to seep down into it and remove deep-seated stains. However, this doesn't wear off directly after your treatment, so your teeth may feel a little sensitive afterwards. Not to worry—this is only temporary! It should go away on its own within a day or so. While any discomfort you feel should be fleeting and mild, you can manage it with over-the-counter pain relievers if needed.
Am I a Good Candidate for Teeth Whitening?
If you want a brighter smile, it's likely that you're a good candidate for teeth whitening! As long as you're in good oral health, a teeth whitening treatment can wind the clock back on your smile and remove years of stains. However, there are some cases that are better treated with other means. Discoloration that comes from overexposure to fluoride in childhood, certain antibiotics, or an injury to the inside of a tooth can't be corrected with teeth whitening. Instead, we'll review other options like cosmetic dental bonding or porcelain veneers to help you get the sparkling smile you deserve.
Do I Need to Do Anything Before My Teeth Whitening Treatment?
Very little preparation is required on your part for teeth whitening. If you have untreated tooth decay or gum disease, we'll work with you to address these problems before your treatment. These issues can make teeth whitening uncomfortable, so we'll make sure they're under control before starting. Additionally, we typically recommend getting a dental cleaning before having your teeth whitened as well. Clearing away any plaque or tartar buildup will ensure the best results!
How Do I Keep My Teeth White After Treatment?
The results of your teeth whitening treatment have the potential to last a year or more. However, that's only if you take care of your smile properly! To protect your investment and keep your pearly whites bright, be sure to:
Practice great oral hygiene
Avoid or limit staining foods and drinks
Come see us twice a year for checkups and cleanings
Ready to remove those pesky stains today? Give us a call!