Dentures – Casper, WY
The Easy Way to Get Your Smile Back
Losing a significant number of teeth can be devastating for your quality of life, making even the simplest daily activities more difficult. In these cases, many patients search for a worthwhile replacement as soon as possible. If this describes your situation, you may want to talk to Dr. Erin Prach about custom-made, removable dentures at our Casper, WY dental office. These appliances can be created relatively quickly when compared with other tooth replacement solutions, and their convenience and affordability is also ideal. If you think dentures may be the solution for you, give us a call to schedule a consultation.
Why Choose Dr. Erin M. Prach for Dentures?
Friendly, Down-to-Earth Dentist
Implant Dentures Available
Dental Insurance Welcomed & Maximized
Who Is a Good Candidate for Dentures?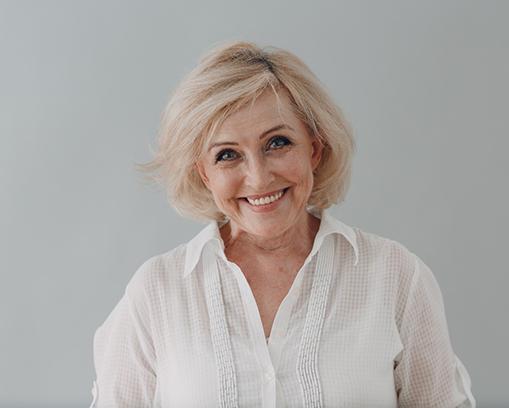 Dentures are an ideal option for patients who are missing several, most of, or all of their teeth. Depending on the number of teeth that you're missing and where they are located in the mouth, a personalized plan can be catered just for you . If you currently have any oral health issues, like tooth decay or gum disease, they will need to be addressed and eliminated before you can get dentures. Your oral health is always our top priority!
Types of Dentures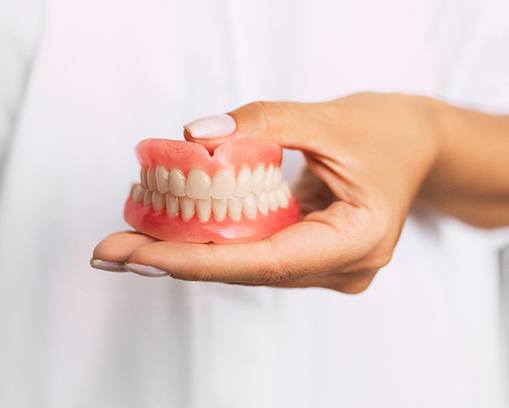 There are a few different types of dentures available to meet a variety of different needs. During your initial consultation, we will determine which of the following will best restore your smile:
Partial Dentures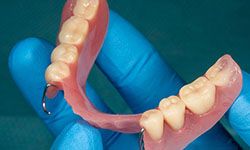 Partial dentures are designed to replace multiple teeth along an arch, and they come with clasps that securely attach to your natural teeth. Like full dentures, partial dentures are removable. If you're looking for more security in your reconstructive solution, implant-retained full and partial dentures are also available, so please ask our team about this option if you're curious.
Full Dentures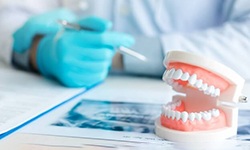 Full dentures, as their name implies, are designed to replace the entire bottom or top arch of teeth. They stay in place within the mouth through natural suction. If a more sturdy fit is desired, denture adhesive can be used as well. The appliance is removable, allowing patients to clean and store it at night.
Implant Dentures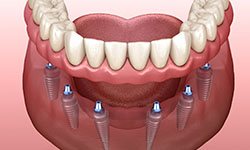 If you want a sturdier, longer-lasting tooth replacement option, implant dentures are a great way to go. This type of denture is held into place with a titanium, screw-like implant that is surgically placed in the jawbone to act as an artificial tooth root. They allow for additional bite force and prevent bone loss from occurring over time as a result of tooth loss.
The Benefits of Dentures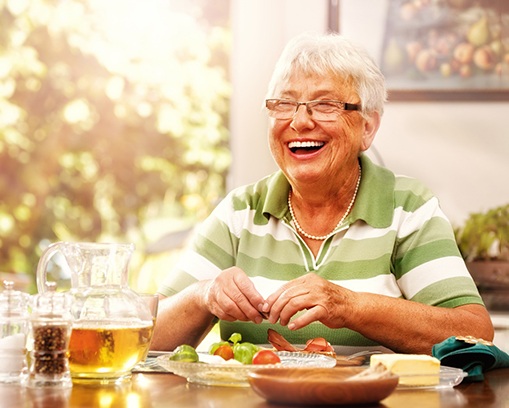 Here are just some of the numerous benefits you can expect when you get dentures:
Allows for easier eating
Prevents movement of surrounding teeth
Covered by most dental insurance plans
Improves speech
Natural appearance
Removeable for easy cleaning
Increases confidence
Supports facial muscles
Dentures Aftercare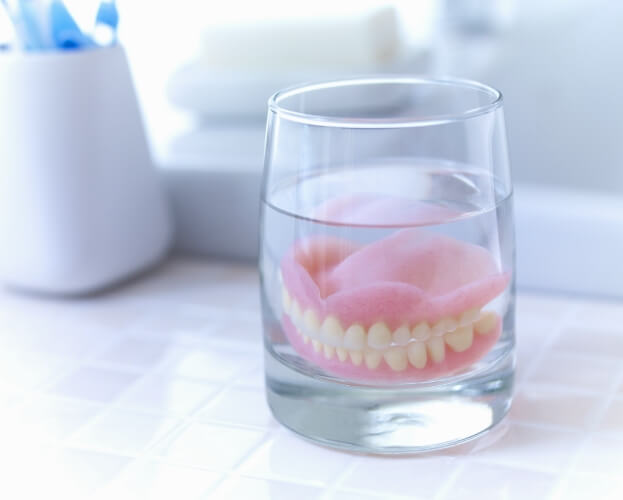 In the beginning, it's perfectly normal for your full or partial denture to feel somewhat bulky. It takes time for you to adjust to the sensation. Make sure to brush them every day with a soft-bristled toothbrush so food particles are removed. Always rinse the denture before putting it back in your mouth. Adjustments may be needed over time, so please contact our Casper, WY dental office if you're in need of assistance. We're always here to help. Here in Casper, WY, our team strives to provide a friendly, warm atmosphere where patients feel comfortable and cared for. We're happy to offer Friday appointments and same day care!
Denture Frequently Asked Questions
Do you have more questions about full or partial dentures in Casper? We have answers! Our expert staff has pulled together some of the most common questions we hear from patients about dentures and partials in this handy FAQ section. If you still have questions or concerns after reading the information below – or are ready to get started on restoring your smile – do not hesitate to call our dental office and schedule an initial consultation with Dr. Erin Prach.
How Long Will You Have to Wait to Get Dentures After Your Teeth are Pulled?
The average wait time to get dentures after tooth extraction is typically between 6 to 8 weeks. However, the exact amount of time will directly depend on the type of denture that we are using. While this may seem like a long wait, this time gives your gums a chance to heal, and we can ensure that your denture fits properly. That said, immediate dentures can be placed on the same day of your extractions, but the shape of the underlying bone may change as the mouth heals, requiring adjustments in the future. For implant-retained dentures, you must wait 4 to 6 months for the implants to heal during a process called osseointegration.
Can I Sleep with My Dentures?
While you can sleep with your dentures in, it is advisable that you instead remove them at night to give your gums and bone a chance to relax. Overnight relief from the pressure of wearing dentures will give your mouth some time to recuperate and help you wake up feeling refreshed. Taking your dentures out at night is also the perfect opportunity to clean them and soak them in water while you sleep. That said, we will recommend that you wear your dentures for the first 24 hours, including at night. After that, it's vital that you take your prosthesis out each night and soak them.
What Qualifies You for Dentures?
We offer 3 types of dentures – partials, full dentures, and implant dentures. The requirements for getting each are different, which allows us to treat a wide range of patients with these options. If you're missing most of your teeth, partial dentures may be the perfect option, restoring the gaps in your smile while keeping the rest of your grin intact. Full dentures are great for patients who are missing all or most of their teeth. Extensive tooth loss could occur as a result of gum disease, bone loss, or other oral health issues. Lastly, dental implants can support dentures for patients missing all or most of their teeth as long as they have sufficient jawbone density to properly support them.
Will It Hurt to Get Dentures?
Keep in mind that if you need tooth extractions before getting dentures, you will experience some slight discomfort. However, this soreness can be managed with the medication we prescribe. If your pain gets worse after 3 to 5 days, contact our dental office right away. Once you get your dentures, it's completely normal to feel some minor irritation while your gum tissue adjusts. This discomfort will go away with time, but in some cases, it can take months. Plus, if you switch to a new set of dentures, the adjustment period may take a little longer.