Dental Crowns – Casper, WY
Restoring Damaged Smiles with Dental Crowns
Life is full of surprises, and occasionally your pearly whites might suffer an unexpected injury. For teeth that have been damaged or compromised, a dental crown is often one of the best possible solutions. Dr. Prach has placed countless crowns over the course of her career, and whether you need one for restorative or cosmetic purposes, she's ready to exceed your expectations and provide your damaged smile with a solution that'll look and feel spectacular. Keep reading to learn a little more about dental crowns in Casper and their capabilities or feel free to reach out online to schedule a consultation.
Why Choose Erin M. Prach for Dental Crowns?
Strong, Tooth-Colored Crowns Available
Experienced and Friendly Dental Team
Sedation Options for Patients with Dental Anxiety
What Is a Dental Crown?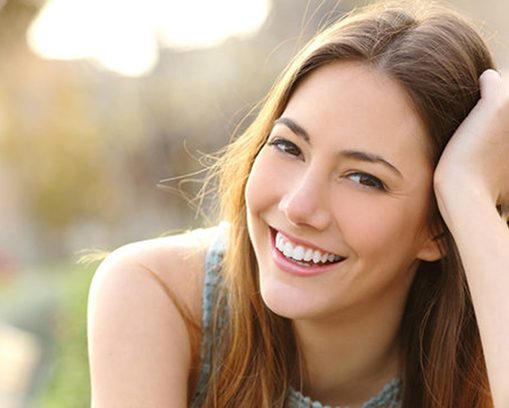 A dental crown is a custom-made cap that's designed to fit over the biting surface of your tooth, located above the gumline. It can be made from a variety of materials including gold, ceramic, porcelain, and countless others depending on your budget and preference.
Crowns are an extremely versatile restorative solution and Dr. Prach often suggests them for the following situations:
A tooth is severely decayed and the filling needs additional support.
A tooth is broken and needs to be held together and strengthened.
A tooth has just undergone root canal therapy.
A dental bridge needs to be anchored in place.
A tooth is severely misshapen or discolored.
A missing tooth that's been replaced with an implant that requires restoration.
The Dental Crown Process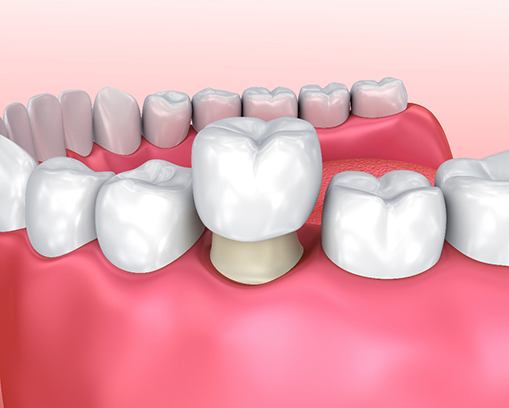 Our office in Casper can provide you with a new, personalized dental crown in as little as two or three appointments. We'll first need to examine your mouth to determine if a crown can be used to address your issue; if so, we'll walk you through the process before you commit to treatment.
Dr. Prach will need to remove a thin layer of enamel from the tooth in question to prepare it for the crown—but this is nothing to be worried about, and simply allows the crown to lay flush with your surrounding teeth once it's secured! We'll also take an impression of your teeth and gumline that is used in the fabrication of your crown. While your permanent crown is being made, you'll receive a temporary crown to protect your prepared tooth. But once your crown is good to go, we'll call you back in to bond it. You'll also be given instructions for how to properly care for it so that it lasts for several years to come.
The Benefits of Getting a Dental Crown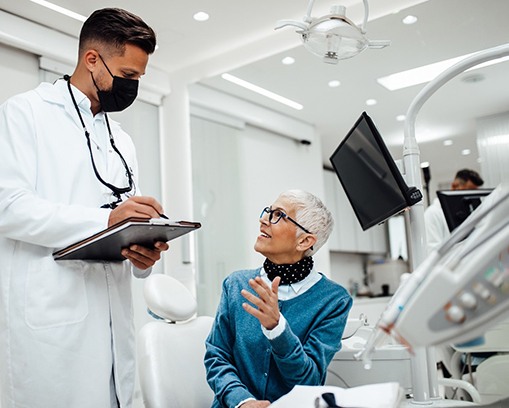 Dental crowns boast a wide array of awesome benefits, including:
Improved comfort and chewing ability.
Reduces the risk of worsening oral health problems in the future.
Protects natural teeth from needing to be extracted.
Lifespan of 15+ years with proper oral care.
Completely customized to look realistic and feel comfortable.
Dental Crowns FAQs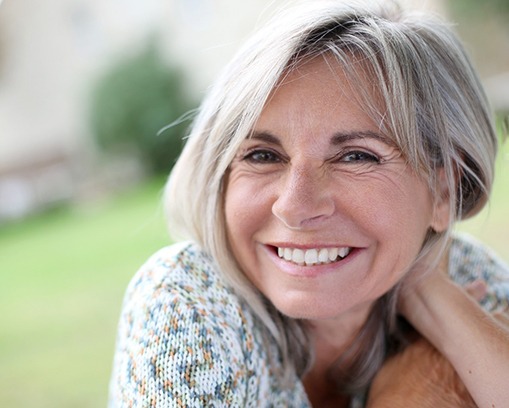 If you still have questions about receiving dental crowns in Casper, our team and Dr. Prach are more than happy to answer them! Below, we've compiled some of the most common ones that we receive from our patients. If you don't see yours listed, we welcome you to call our dental office so we can address your concerns.
How long do dental crowns last?
The lifespan of your dental crown depends on several factors, such as the materials you decide to have it made out of and whether you regularly maintain it. With good oral hygiene practices, routine visits to our dental office, and avoiding bad oral habits like teeth grinding, smoking, and nail-biting, your crown can last for up to 10 years.
Are dental crowns covered by insurance?
It's important to keep in mind that every dental insurance plan is different, so to find out if your provider covers the cost of dental crowns, you'll need to contact them directly. However, in most cases, dental insurance plans will cover a portion of the cost of this restoration (usually about 50 percent). Our team at Erin M. Prach, DDS is happy to file claims on your behalf to help you maximize your benefits. Plus, if you have Delta Dental, Cigna, Blue Cross Blue Shield, or GEHA, you can save more by visiting our team because we're in-network providers.
Can my dental crown get a cavity?
While your dental crown itself can't get a cavity because it's made out of artificial materials, the tooth underneath your crown can if you don't take proper care of it. It's important to continue brushing twice each day for two minutes, flossing daily, and rinsing with antimicrobial mouthwash daily to keep plaque and tartar from accumulating around your restoration.
What materials can dental crowns be made from?
Dental crowns can be made from gold, silver, porcelain, ceramic, zirconia, and porcelain fused to metal. Many of our patients choose to have theirs crafted from natural-looking, customizable materials like ceramic and porcelain because they blend in with the rest of their teeth and won't cause gum or tooth discoloration.
Why would my dentist recommend a dental crown?
Dental crowns are more versatile than many patients know. Your dentist may suggest getting one in any of the following situations:
Severe dental decay has weakened your tooth and a crown needs to be placed over the top of a filling to protect and strengthen it.
Dental damage has weakened your tooth and a crown can hold it in place and protect it.
Your tooth is severely misshapen.
You're missing a tooth and a dental bridge can restore your smile with the hold of crowns.
A tooth has been treated with a root canal and needs to be protected with a crown.
If you have any questions or concerns about why we suggest you should get a root canal, feel free to ask our team! We're friendly, understanding, and always here to provide you with the answers you need to feel confident in your decision to receive treatment.
If you feel as though your smile could benefit from receiving a dental crown, don't hesitate to call our office today to set up a consultation. Getting a dental crown now could easily save your smile some trouble down the road!