Emergency Dentistry – Casper, WY
Emergency Dentist For Saving Casper Smiles
Emergency situations are always terrifying, and those that impact your oral health are no different. If you or a loved one are experiencing severe dental pain or an injury, don't hesitate – contact your emergency dentist in Casper, WY, Dr. Erin Prach, as soon as possible for assistance. With years of experience, advanced training and the latest technology, you can count on getting out of pain fast and recovering the health and beauty of your smile. And, in most cases, we're able to see you the same day you call for emergency dentistry in Casper, WY. We'll also provide guidance for how to manage your situation if you can't reach us immediately. Learn more below about handling common emergencies, and don't hesitate to contact us if you ever need immediate care!
Why Choose Dr. Erin M. Prach for Emergency Dentistry?
Same-Day Emergency Appointments Available
Dental Insurance Accepted & Maximized
Friendly Dental Team That Prioritizes Your Comfort
How We Treat Dental Emergencies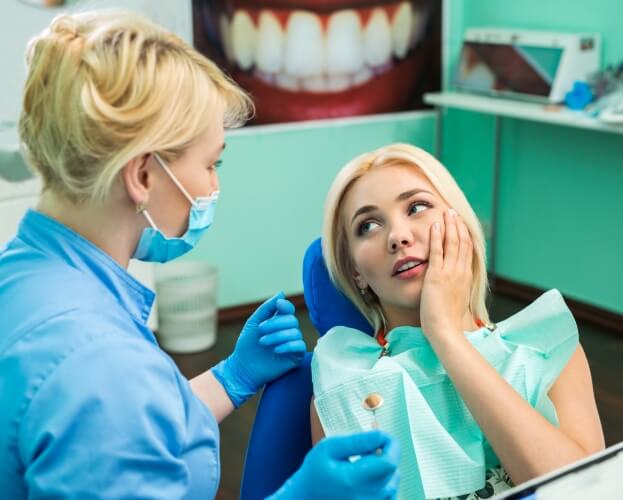 Initial Call: On the phone, we can provide fast first-aid tips to help you deal with any discomfort, and if necessary, schedule you for a same-day appointment.
Emergency Exam: After you arrive, Dr. Prach will examine the patient's mouth and take X-rays so she can understand what is causing the problem.
Presentation of Treatment: Prach will discuss treatment options and go over the details of each so you can choose what is best for you.
Application of Care: Once a plan is agreed upon, Dr. Prach and our team will quickly get to work treating the emergency to stop pain and repair damage.
The Most Common Dental Emergencies
Many situations can constitute a dental emergency, so it's OK to give us a call even if you're unsure whether or not you're experiencing one. We'll let you know what to do next! Below are just some of the most common emergencies we see, so if you ever have to deal with any of them, know that Dr. Prach and our team will definitely be able to help.
Toothaches

Chipped
Tooth

Cracked
Tooth

Sensitivity to
Hot & Cold

Knocked-Out
Tooth

Lost Filling
or Crown

Broken
Denture

Loose
Tooth

Gums, Lip or
Tongue Injury

Jaw Pain or
Clenching

Something Stuck
Between Teeth
The Cost of Treating Dental Emergencies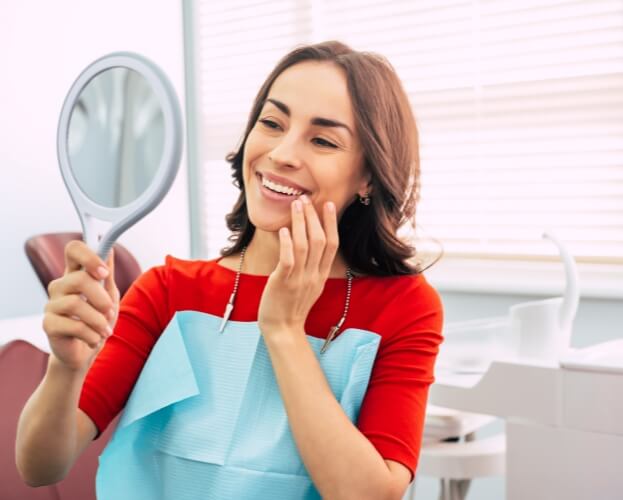 OUCH! At a moment's notice, your entire day is flipped upside down as your teeth come down hard on an unpopped popcorn kernel. Immediately, you head straight to your emergency dentist in Casper to get the fast, effective relief you deserve. It isn't until your pain-free smile is restored that you start thinking about the cost. Fortunately, you can find effective, affordable emergency dental care with Dr. Erin Prach. Read on to learn factors that influence the price and the financial options available or request an appointment!
What Factors Can Influence the Cost of Emergency Care?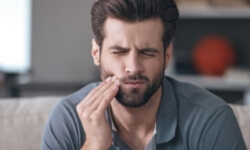 As you can imagine, the process of treating the root of a dental injury is much more extensive than a routine teeth cleaning. With that being said, emergency care typically costs more than your bi-yearly dental appointment. While there is no all-encompassing answer for an exact price, there are a few factors to consider across the board:
Type of restorative treatment – For example, does the issue need to be addressed with root canal therapy or does the tooth need to be extracted and replaced entirely?
Dental insurance – Although dental plans vary from one person to the next, the cost of diagnostic care is typically covered. Plus, your dental plan may cover 50% of major procedures, like dental crowns, which can significantly lower your out-of-pocket cost.
Location of the dental office – Usually, treatment in cities or towns where the cost of living is higher tends to be more expensive.
Financial Options Available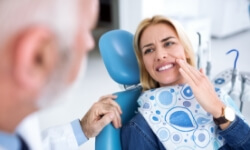 Dr. Prach and our team never want cost to stand in the way of the dental care you need, especially when you're in pain. That's why we are proud to be in-network with Delta Dental, Cigna, GEHA, and many more! Even if you have a different insurer, we will file the claim on your behalf, maximize your benefits, and help you understand the cost before beginning treatment. That way, your benefits go toward what they are meant for: protecting your smile and your wallet.
The Importance of Scheduling a Consultation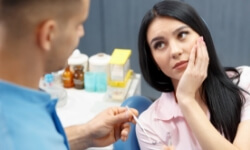 Ultimately, the cost of your care comes down to your unique dental needs. That's why scheduling a consultation is so important! The moment a dental emergency strikes, contact our dental office so we can get you in as soon as possible (which is often the same day). Once you get to our dental office, Dr. Prach will conduct a comprehensive exam, locating the source of the problem. From there, a custom treatment plan will be made to restore both the function and aesthetic of your smile. The cost and financial components will be laid out clearly so there are no surprises, and you can just focus on getting the dental care you need!
How To Prevent Dental Emergencies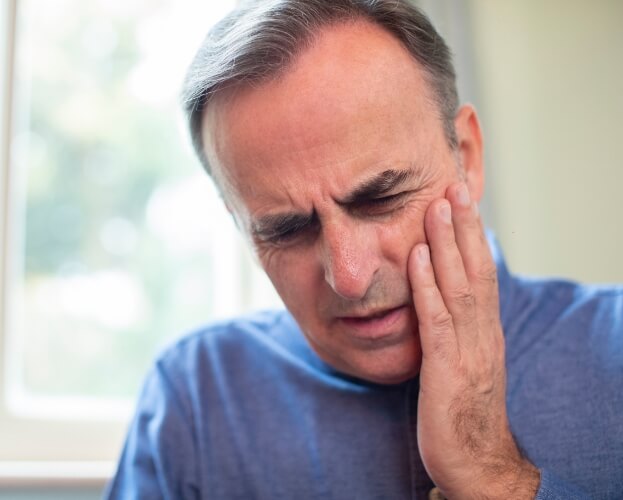 Emergencies can't always be prevented, but you can minimize them with the following tips:
See us for regular checkups. This allows Dr. Prach to keep a close eye on your teeth and gums and treat any issues before they turn into emergencies.
Brush at least twice a day and floss once. The cleaner you keep things, the lower your risk of cavities, gum problems, toothaches, etc.
Wear custom-made athletic guards or nightguards if needed.
Don't chew on ice, pens, or hard candies and avoid opening packages with your teeth.
Dental Emergency Frequently Asked Questions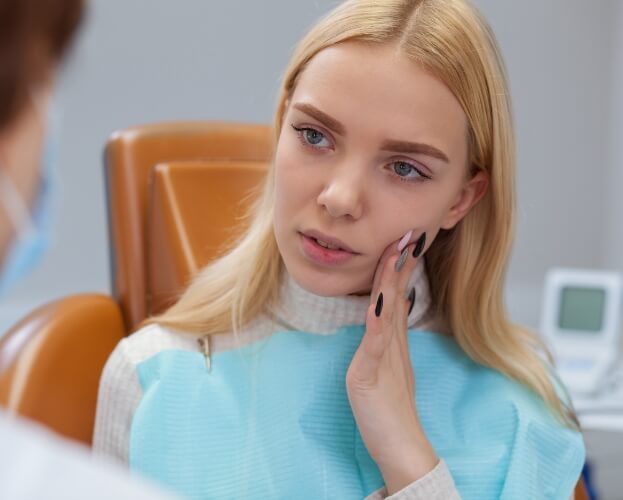 Your emergency dentist in Casper, Dr. Erin Prach, wants to help you become more familiar with the topic of dental emergencies. With so many questions surrounding what to do, where to go, how to handle certain situations, and how to prevent them from happening, she and her team have compiled some of the most common frequently asked questions for you to review. We encourage you to spend some time looking over the answers and invite you to contact us with any additional questions you might have. It is our job to inform, educate, and help our patients, so give us a call today!
What should I do if my child knocks out a baby tooth?
Although baby teeth eventually fall out on their own, they shouldn't fall out too soon. Should your child accidentally knock out a baby tooth, call us as soon as possible and let us take a look. While waiting to see your child's dentist in Casper, make sure to keep the tooth moist by placing it in a container of milk.
Once you arrive at our dental office, Dr. Prach will examine the tooth and your child's mouth to determine the severity of the problem. If it is possible to implant the tooth again, we will do so; however, if too much time has passed or it is impossible to implant, we may need to place a spacer in the gap, especially if it will be a while before the permanent tooth grows in. By doing this, it will prevent their other baby teeth from shifting and trying to close the gap.
Will my toothache go away and get better on its own?
Even if the pain is no longer an issue, you should still get in to see us. A toothache is usually caused by either something being stuck between your teeth (which can be easily removed with dental floss) or an infection. An over-the-counter pain reliever can help minimize discomfort; however, if there is an underlying cause for your toothache, it's important that Dr. Prach examine your oral cavity to determine if anything underneath the gum line is the culprit of the pain.
What should I do if I experience a dental emergency while on vacation?
You might be tempted to just wait until you return home to get help, but if you want to be able to enjoy the rest of your time on vacation, you will get to a local dentist's office as soon as possible. No matter if it's a raging toothache or a busted lip, let a professional nearby take a look and offer treatment. Make sure to call and alert us to the situation. If necessary, we will schedule an appointment for you to come in once you get home. This will allow Dr. Prach to review the problem area and determine if you need additional treatment.
When should I visit the emergency room?
There are only a few instances in which you should skip the dentist's office and head straight to the emergency room:
Broken/fractured jawbone
Continuous bleeding from the mouth
Increased swelling that could cause a blockage of the airway
Most dental emergencies can be safely treated by your emergency dentist. Unless you are experiencing any of the above-mentioned scenarios, avoid the long wait times and instead, let Dr. Prach take care of your smile with start-to-finish treatment.