Porcelain Veneers – Casper, WY
Enjoy Complete Confidence with Every Smile
Porcelain veneers in Casper are a popular cosmetic dentistry treatment that can fully transform a damaged or imperfect smile. If you are tired of hiding your flawed front teeth and are interested in how they can be improved with beautiful porcelain veneers in our Casper, WY dental office, keep reading to learn more from our trusted cosmetic dentist, Dr. Erin M. Prach.
Why Choose Dr. Erin M. Prach for Porcelain Veneers?
100% Customized for Each Patient
Able to Change One Tooth or Your Entire Smile
Friendly, Down-to-Earth Dentist
What Are Porcelain Veneers?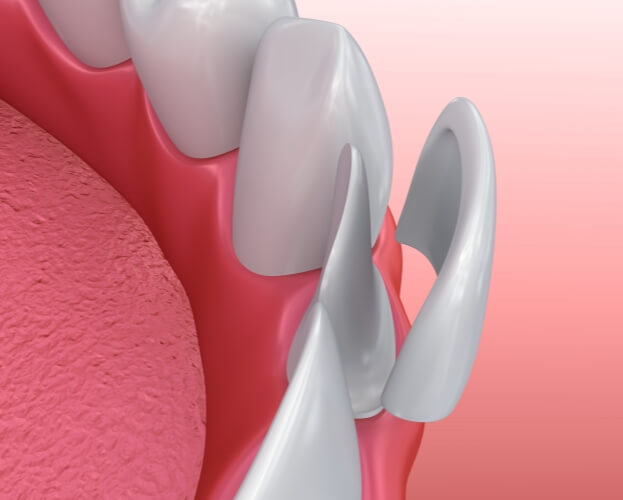 Porcelain veneers are thin coverings of dental porcelain that can cover up cosmetic imperfections affecting the teeth that show when you smile. Veneers are custom-crafted to match the precise color, shade, and shape that suits you best.
Porcelain veneers can be used to mask the appearance of…
close-up of a beautiful smile
Chipped or broken teeth
Stained or discolored teeth
Slightly gapped teeth
Off-center or misaligned teeth
Short or pointy teeth
Oddly textured teeth (pitted and grooved surfaces, for instance)
Benefits of Porcelain Veneers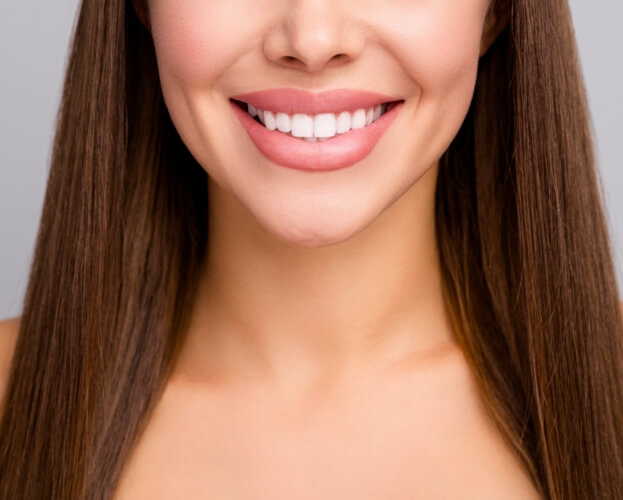 Dental veneers offer a number of advantages for patients who are dealing with cosmetically flawed teeth. Some of the most considerable benefits you can look forward to include:
porcelain veneer illustration
Dramatic transformation possible with a single treatment
Veneers can be completed in less than a month
Dental porcelain does not stain like natural tooth enamel, so veneers stay dazzling white for years to come
Veneers can cover up minor gaps and misalignments to help you avoid braces
Many patients are eligible for this treatment
How Are Porcelain Veneers Applied?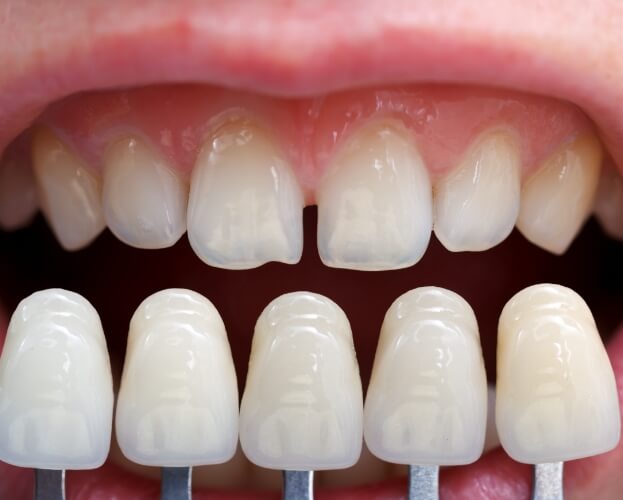 man with beautiful smileVeneers are usually placed over the course of two visits to your dentist in Casper's dental office. During the first appointment, we will build the treatment plan and do all the prep work. A thin sliver of tooth enamel must be removed to ensure the veneers appear completely natural in the smile. Then, an impression of the teeth is created. This information is sent to our partner lab along with the details of your treatment plan. Here, the veneers are crafted from high-quality dental porcelain. You wear temporary veneers in the time between appointments.
Once the veneers are complete, you return to our dental office for their placement. Your dentist then removes the temporary veneers and give you the first preview of your new smile. Once we are sure they look just like they should and have made any necessary final adjustments, a special bonding agent is placed onto the surface of each tooth and the veneers are placed. And the results? Fabulous. We know you will love your new smile!
Who Is a Good Candidate for Porcelain Veneers?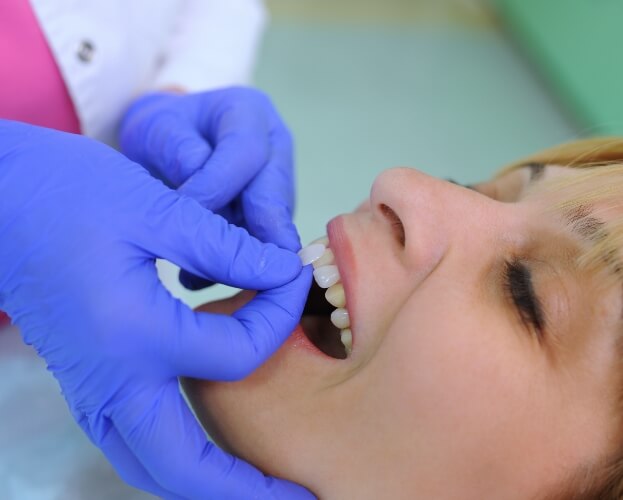 Adults and older teens who have cosmetic imperfections affecting otherwise healthy teeth can usually benefit from porcelain veneers. If your teeth are damaged or have sustained structural issues, you may need a more restorative solution like a dental crown. And while veneers can cover up minor orthodontic issues for an "instant braces" effect, people who have serious dental misalignments will need to undergo traditional orthodontic treatment. Dr. Prach can let you know whether or not you are a great candidate for veneers during a cosmetic consultation.
Porcelain Veneers Frequently Asked Questions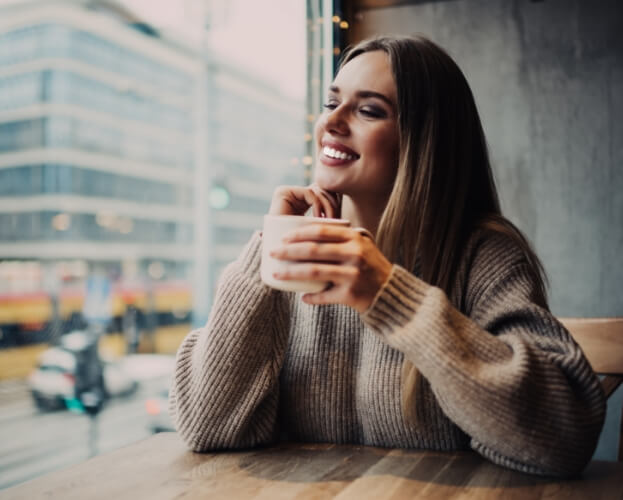 When preparing for any type of cosmetic treatment, it is not uncommon to have concerns or questions about the process and what to expect before, during, and after you receive your new smile. Dr. Prach and her team want you to feel confident about your decision to move forward with porcelain veneers in Casper, which is why she has compiled several frequently asked questions for you to review before your consultation. After reading through the questions should you have any additional ones, we invite you to contact our dental office.
How long do dental veneers last?
Depending on how well you take care of your veneers, they can last anywhere between 5 and 10 years. You must maintain a good oral hygiene routine to keep them clean, so make sure you are brushing, flossing, and rinsing, as well as visiting your dentist for regular checkups and cleanings every six months.
How many porcelain veneers do I need?
This is dependent upon your personal preference. During an initial consultation with Dr. Prach, she will be happy to suggest which teeth and how many should receive veneers, but ultimately, it is up to you. Most individuals either opt to have veneers placed on all their teeth or only the ones that are visible to others. It is believed that having two, four, eight, ten, or twelve delivers to greatest results.
How do I care for my porcelain veneers?
There are no special products or tools necessary when caring for your veneers. You need only a toothbrush, toothpaste, dental floss, and mouthwash. You will need to brush twice daily for two minutes and floss at least once a day. If you are prone to grinding or clenching your teeth at night, asking our dentist about a custom-made nightguard can prevent possible chips and cracks from occurring in your veneers. You may also want to avoid eating hard, crunchy foods, as these can damage your veneers more quickly.
What is the most common reason to have porcelain veneers replaced?
Gum recession is often the most common reason people have their veneers replaced. If the root of your tooth becomes exposed, it will be easy to tell that your veneers are not your natural teeth. To prevent this, you will need to have your old veneer removed and a new one bonded in its place. This process does leave your natural tooth somewhat compromised; however, once the new veneer is placed, the chances of decay decrease as long as proper oral hygiene is practiced.
Can I preview my porcelain veneers before they go in?
Yes! Dr. Prach will use advanced technology to allow you to see what your veneers will look like prior to creation. Not only is this beneficial to solidifying your decision about choosing porcelain veneers, but it also enables you to suggest changes before your restorations are created by lab technicians.
How do I get porcelain veneers to match my other teeth?
The most obvious way to do this is with teeth whitening. Since your veneers allow you to essentially choose your new tooth color, once they are placed, you can talk to your dentist about having your other natural teeth whitened to match your veneers.
Does the process hurt?
To place your veneers, you will receive a numbing agent to protect against any discomfort. While you will not experience any pain while Dr. Prach places your new restorations, you might feel some soreness after the numbness goes away. This is most common in patients who receive eight or more veneers. It is common to have some discomfort in your jaw and gums, but an over-the-counter pain reliever can help.
Will I need gum contouring?
Only under certain circumstances would you need gum contouring. If you have a gum line that is not even, it may be necessary to perform this type of procedure to create the most pleasing aesthetic. However, you will not experience any additional discomfort.
What can I eat and what foods should I avoid?
When wearing veneers, it is best if you avoid anything hard or crunchy. In the few days after having your veneers placed, it's best if you opt for softer foods to prevent additional discomfort. After a few days, you can begin to incorporate other foods, and after several weeks, there are no restrictions other than hard foods. Ice, hard candies or fruits, nuts, and popcorn are best avoided, as these can chip, break, crack, or fracture a veneer or a natural tooth.
What habits should I avoid or stop?
Bad habits are hard to break, but Dr. Prach recommends that you stop biting your nails, chewing on inanimate objects (pens/pencils), and using your teeth as tools to open packages.
What happens if one of my porcelain veneers comes off?
While it might be natural to panic in this type of situation, the most important thing to do is stay calm. If a veneer comes off, call our dental office and alert us to the situation. Do not try to put the veneer back onto your tooth with glue or any other type of bonding agent. Dr. Prach will likely need to have a new veneer created, but depending on the status of the veneer, it may be possible for her to simply re-bond it to your tooth.
Can I brush and floss my teeth after porcelain veneers, and do I still have to come for professional hygiene appointments?
When it comes to wearing veneers, there is nothing you should change about your oral hygiene routine. Brushing, flossing, and rinsing are just the same, and yes, you will need to continue with your six-month dental checkups and cleanings with Dr. Prach. This will allow her to examine your veneers and check for any small imperfections.