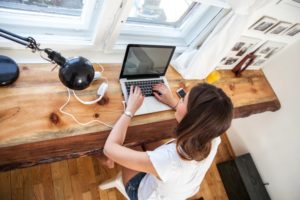 As a dental practice, our number one priority has always been the health and comfortability of our patients. It's important to have a highly experienced dental team and the most advanced dental technology, but none of that matters if the patients aren't happy with their care. That's why your dentist in Casper wanted to extend their appreciation and highlight a few of the reviews she's received from her wonderful patients.
We always do our best to provide high-quality care, and it clearly shows. Both our Facebook and Google reviews have a solid 5-star rating. That's incredible! As a token of our appreciation, we'll also be offering a patient special for those interested in experiencing our care themselves. You won't want to miss it!
We're Quite Popular with Families
Whether your 8 years old or 80, we try to provide patients the dental care they need. Based on some of your reviews, we're doing pretty well so far. Here's a couple that stood out to us:
Dionna – "My entire family sees Dr. Prach, I mean my ENTIRE family including myself, my husband, 4 kids, parents, my brothers, and many friends. I'd recommend her to a person of any age! She has the experience, patience, and love for what she does. Her office is very inviting and the care you receive is truly what makes her place the best! If you are looking for a dentist in Casper, she is the one!"
Thank you Dionna! People of all ages need dental care. That's why we try to accommodate whenever possible. Here's another:
Amber – "Excellent dental care and professional staff. My children range from 6-16 and have all different kinds of dental needs. Erin is always happy to research the best procedures and is very open and clear about options and cost."
Getting your children the proper dental care they need at an affordable rate is very important to us, so it's good to hear we're hitting the mark.
Being Gentle, Considerate, and Non-Judgmental Matters
After perusing a few of the reviews, we noticed many patients don't get the same level of attention from other dentists, which is unfortunate. Luckily, we're here to fulfil that need.
Sara – "Dr. Prach is amazing she is non-judgmental. She makes sure I'm comfortable while getting any type of work done. She is very gentle and kind. I always hated going to dentist until I switched to her. Her office staff is amazing. Highly recommend going to see her or switching to her as your dentist."
Jamie – "One of the most incredibly caring people I've ever met. Very gentle and understanding."
As a cosmetic dentist in Casper, she's also able to address cosmetic issues you have.
Shira – "I needed a few simple cosmetic fixes that every other dentist had ignored because my teeth were 'fine.' Dr. Prach offered several options to help me love my smile. Even after only the first visit, I left feeling happier with my teeth than I ever had before. It means so much to me and I can't thank her enough."
Hearing these reviews makes us so proud to come to the office every day. We hope to see new faces come in soon!
Before you go, we wanted to mention our special specifically for new patients. For your first visit, you'll receive a dental exam and bitewing x-rays, free of charge! It's just our way of saying "Let us show your friends and family what we're capable of!" We hope to see you soon!
Dr. Prach earned her degree in dental medicine from the University of Colorado's School of Dental Medicine and has been continuing her education ever since. To learn more about her treatments and practice, contact her at (307) 337-4770 or visit her website.