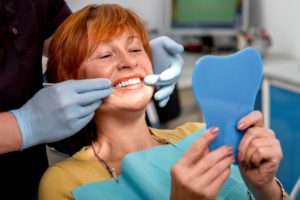 Dental implants have become one of the most popular tooth replacement options for many different reasons. While they do bring you the obvious benefit of a fully restored smile, there are also some hidden advantages that come with dental implants in Casper. Keep reading to learn how dental implants can improve not just your smile, but your life, too.
What Are Dental Implants?
Dental implants are small titanium posts that are surgically placed in your jawbone to act as supports for your dental restoration. Titanium is biocompatible, so it actually integrates into your jawbone to create a permanent artificial tooth root. Because of this osseointegration process, dental implants have the potential to last a lifetime.
What Are the Hidden Benefits of Dental Implants?
Besides giving you a beautiful smile, here are some of the not so obvious advantages that patients enjoy after receiving dental implants:
Younger Appearance
When you have missing teeth, your facial aesthetics and symmetry suffer, creating an older appearance. Missing teeth also cause jawbone deterioration, creating a more sunken-looking face. Dental implants not only restore your smile to create a better appearance, but they also stimulate your jawbone to keep it strong and healthy!
Improved Diet
Because dental implants are rooted in your jawbone, they restore your biting power to its full strength. This allows you to eat more of your favorite foods, but it also lets you eat a more healthy and nutritious diet. Especially if you're missing all or most of your teeth, you may have struggled with dentures in the past. Dental implants can secure your dentures in place, giving you better eating and speaking ability.
Better Overall Health
Without replacing teeth with dental implants, your jawbone can shrink, which leads to even more tooth loss. Missing teeth also allow your natural teeth to drift out of place. Dental implants and their restorations prevent misalignment as well as preserve your jawbone to keep the rest of your healthy teeth.
Boosted Confidence
If you choose to get dental implants, you'll receive a beautiful smile with boosted confidence and self-esteem. Gone are the days of hiding your grin in photos or in public. Dental implants allow you to thrive in your personal and professional lives. Studies show that a healthy-looking smile automatically makes people perceive you as younger, more successful, confident, and trustworthy.
Does it sound like you could benefit from dental implants? Contact your dentist in Casper to get started on a beautiful, functional, and life-changing smile.
Meet the Dentist
Dr. Erin M. Prach takes pride in her ability to boost her patients' confidence by offering expertly placed dental implants. She takes the time to carefully examine your mouth to provide you with the best treatment possible. She currently runs her own practice, and she can be contacted through her website or by phone at (307) 337-4770 for any questions.