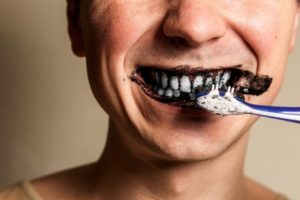 One of the trends that took the dental world by storm this past year was using activated charcoal toothpaste to whiten teeth. People all over social media claim that the absorbent qualities of activated charcoal allow it to soak up stains on your teeth and give you a smile fit for the silver screen. But does it actually work? How does it compare to professional teeth whitening in Casper? Read more to find out.
What Do Social Media Influencers Say?
Activated charcoal is incredibly absorbent, which is why people have discovered that it can whiten teeth. Just do a simple Internet search about charcoal whitening and you'll find thousands of people touting its benefits. The idea is that the charcoal will soak up surface stains on your teeth, brightening your smile. Let's take a look at some of the science behind charcoal whitening to see if these claims are true.
What Does Your Dentist Say?
Since activated charcoal contains chemicals that can be abrasive to your pearly whites, most dentists will warn against using it. Brushing with these chemicals may result in enamel erosion.
Enamel is the outermost layer of your teeth. It's also what gives your teeth their white color. Underneath the enamel is a yellowish layer known as dentin. Once enamel wears thin, more of the dentin is exposed, giving the teeth a yellow tinge. Also, when enamel is gone, it's gone for good. This means that the more you try and whiten with charcoal, the darker your teeth will actually become, producing the opposite of the desired effect.
What Does the American Dental Association Say?
The American Dental Association (ADA) has not given their Seal of Acceptance to charcoal whitening. They have stated that much more research needs to be done on the subject before they can endorse the practice.
Instead, they recommend seeking professional teeth whitening from your dentist. Luckily, your cosmetic dentist in Casper offers both take-home and in-office whitening, so you can choose which method works best for you. To top it all off, it's guaranteed to produce better results than activated charcoal whitening ever will!
About the Author
Dr. Erin Prach is a graduate of the University of Colorado's School of Dental Medicine. She then opened her private practice in Casper, WY in 2015. In the years since, she has honed her skills through continuing education, such as by studying oral surgery while on a mission trip to Guatemala. She loves helping patients gain confidence in their smiles, which is why she offers both at-home and in-office teeth whitening in Casper. To learn more about which type of teeth whitening is right for you, visit her website or call (307) 337-4770.