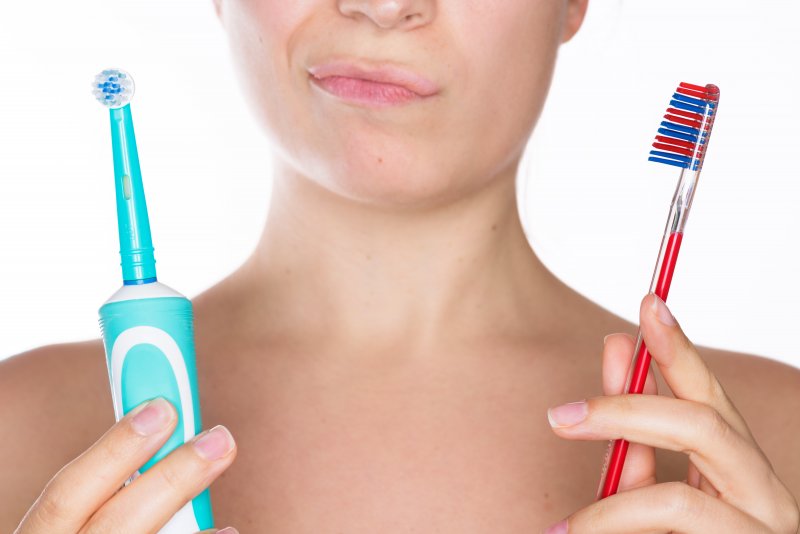 You know that you should be brushing your teeth every day in order to maintain a healthy smile. Removing leftover food debris, bacteria, and plaque buildup is crucial in order to prevent tooth decay, periodontal disease, and other issues in your mouth. But are you sure that you're using the best toothbrush? There are two main types of toothbrushes available: manual and electric. But is electric really the better option? Read on to learn more from your dentist in Casper about the pros and cons of each type as well as which one is the best option.
Manual Toothbrushes
This classic type of toothbrush is an effective tool for cleaning your teeth and preventing gingivitis. For many, this is an easier option. Here are some of the benefits of choosing this type of brush:
Affordable: Manual toothbrushes are very affordable. You can usually find one between $1 to $3 as opposed to their electric counterparts which are pricier.
Accessible: If you didn't already get a new one at your last dental visit, you can easily find a manual toothbrush at grocery stores, gas stations, dollar stores, and pharmacies. You can even find them in hotel lobbies just in case you forget to pack one when you're on the go.
More Control: If you have sensitive gums and teeth, you may prefer a manual toothbrush because it gives you more control over the speed and pressure in which you are brushing.
However, there are a few downsides of manual toothbrushes:
Too Much Pressure: People tend to be more likely to brush too hard when using a manual toothbrush as compared to an electric one. This can lead to damaged tooth enamel, irritated gums, and gum recession.
Not Enough Time: It is more difficult to tell if you are brushing for enough time when you use a manual toothbrush because there isn't a built in timer.
Electric Toothbrushes
There are many people out there that swear by electric toothbrushes. Here are some of the reasons that they are preferred:
Better Clean: Even though you can achieve a clean smile by using proper technique with a manual toothbrush, using an electric toothbrush makes this easier. Oscillating toothbrushes are extra effective at removing both plaque and preventing gingivitis.
Easier to Use: Even though some technique is involved, electric toothbrushes do most of the work for you. This is especially helpful for people who have limited mobility due to carpal tunnel, arthritis, developmental disabilities, and other conditions.
Less Waste: For most electric toothbrushes, you can replace the head every three months instead of throwing away the entire toothbrush. This means less overall waste.
Here are some of the cons of electric toothbrushes:
More Expensive: Electric toothbrushes are generally more expensive than manual ones and you also need to buy replacement heads.
Difficult for Travel: Electric toothbrushes are larger than manual ones. This makes them more difficult to travel with, especially if you have a limited amount of space when you're packing.
In conclusion, both electric and manual toothbrushes are viable options when it comes to maintaining a healthy smile. Electric toothbrushes tend to be more effective at cleaning away plaque, but with proper technique, they manual brushes can be just as sufficient.
About the Author
Dr. Erin M. Prach is a general dentist serving patients in the Casper, WY area. After graduating from Eastern Washington University, she earned her DDS from the University of Colorado School of Dental Medicine. She is committed to expanding her knowledge in the field through continuing education. For more information on proper oral hygiene or to schedule an appointment with Dr. Prach, visit her website or call (307) 337-4770.