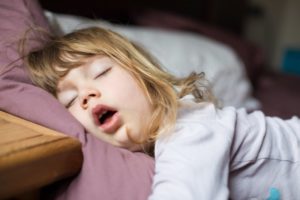 Are you worried about your child's snoring? Do they seem cranky and moody as if they never get a full night's rest? They may be experiencing Sleep Disordered Breathing. As its name suggests, this condition influences how well your child can breathe as they sleep, which can lead to poor rest and unhealthy development. Thankfully, there's a simple way your dentist can help your child breathe easy as they sleep with the HealthyStart™ system! Not only is this treatment noninvasive and highly effective, but it can straighten misaligned teeth and prevent the need for braces in the future. Read on as we go over everything you need to know about HealthyStart™ for kids with SDB.
How To Tell if Your Child Needs HealthyStart™
HealthyStart™ can be used for children between the ages of four and seven. While the only way to truly determine if your child can benefit from this revolutionary service is to take them in for a dental checkup, here are a few signs that they might need it:
Bite issues such as underbite, overbite, crossbite, and open bite
Mouth breathing
Snoring, choking, or gasping during sleep
Crooked teeth
Tongue thrust
Thumb or finger sucking
How Does the HealthyStart™ System Work?
Once you've met with your dentist and determined that the HealthyStart™ system is right for your child, they will take impressions of your little one's mouth. This information will be used to create a custom removable appliance that they'll wear when they sleep. It's designed to help guide proper development of the jaw by keeping it and the tongue in the right places as your child grows. This will help open up your child's air passageways and allow them to sleep restfully as the appliance works.
The Benefits of the HealthyStart™ System
HealthyStart™ is an innovative treatment that can dramatically improve your child's quality of life. A few of the benefits include:
Ensuring the child's natural development, encouraging minimized rates of relapse
Instant results for better breathing while simultaneously providing a long-term solution
Can help stop thumb or finger sucking before it inhibits the growth of permanent teeth
Faster, more comfortable results than if the problems were treated later with traditional orthodontics
Removable for easy cleaning
Soft, biocompatible material for comfortable wearing
Easy and non-invasive treatment
There's no reason to wait if you're concerned about your child's quality of sleep or the health of their bite. With an experienced dentist and the HealthyStart™ system, you can easily get them on track for years of happy, healthy smiles.
About the Practice
Dr. Erin Prach is pleased to offer her patients in Casper the highest quality care with the help of the latest dental technology. She is passionate about helping smiles of all ages and is pleased to offer HealthyStart™ for children with SDB or other related problems. With a wide variety of treatments just for kids, you can rest assured that your little one's precious smile is in good, experienced hands. To learn more about the HealthyStart™ system, she can be contacted online or at (307) 337-4770.