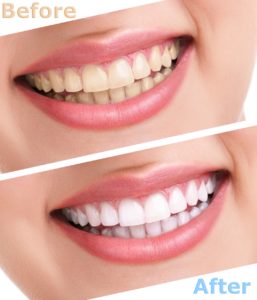 Bright, white teeth portray confidence, youth, and success; however, not everyone has a beautiful smile. Tooth discoloration is a common complaint, but you don't need to hide your teeth anymore. Your cosmetic dentist in Casper has the solutions you need to combat stains, including teeth whitening and porcelain veneers. Although you might only be interested in a whitening treatment, it may not always be your best option. Here are a few things you need to consider when investing in the smile of your dreams.
Teeth Whitening VS Porcelain Veneers
Teeth whitening and veneers are two completely different procedures, but they offer one overlapping benefit – whiter teeth. You might be asking, why would I permanently alter my teeth when whitening systems are available? Well, not all stains can be resolved with a whitening treatment, which is why veneers in Casper may be the better option. Not to mention, veneers can fix more than just discolored teeth. Your cosmetic dentist will perform a thorough consultation and learn more about your goals to determine which treatment is right for you:
Teeth Whitening
A highly concentrated whitening gel is applied to the teeth, which deeply penetrates the enamel to get them up to 8 shades whiter. Although both in-office and at-home kits are effective in treating stains, they won't have any effect on those that originate from within the tooth. Whitening systems are most effective on surface stains, like those caused by smoking or coffee.
Teeth whitening can provide drastic results that can last for several months to multiple years with the proper aftercare. It's a simple and noninvasive option for patients who only want to resolve surface or some age-related stains.
Porcelain Veneers
A porcelain veneer is a thin shell that's bonded to the front surface of a tooth to instantly hide aesthetic imperfections, like tooth discoloration. This makes them the ideal choice to resolve gray or black stains caused from within the tooth. They can resolve stubborn stains that don't respond to traditional teeth whitening. Not only can they give you a bright smile, but they can fix other flaws as well, such as chips, shorter than average teeth, and gaps. Overall, they will enhance the color, size, and shape of your teeth.
Unlike a whitening treatment, the process will take a couple of appointments to complete, and your dentist will need to permanently remove a small amount of enamel. Although it may take a little longer, it's time well-spent because your new smile can last for a decade or longer.
Invest in a Stunning Smile
You can have the radiant smile you've always wanted with the help of your cosmetic dentist. They'll create the flawless smile you deserve.
About Dr. Erin M. Prach
Dr. Prach earned her dental degree from the University of Colorado's School of Dental Medicine before continuing her training in oral surgery during a mission trip to Guatemala. She strives to provide personalized solutions using modern dentistry. If you're ready for a bright smile, contact our office today to schedule a consultation.