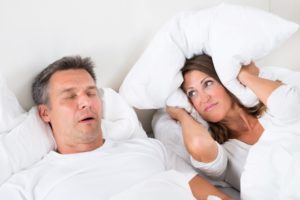 If you suspect you have sleep apnea in Casper, you likely struggle with daytime fatigue, morning headaches, and irritability. You can also be at risk of several serious health issues without the right treatment, like cardiovascular disease. However, those aren't the only concerns. Sleep apnea doesn't just affect you. Without the right treatment, the sleep disorder can take a toll on your relationships. Don't let sleep apnea come between you and your loved ones. Here's what you need to know to ensure everyone gets the rest they need.
Sleep Apnea and Relationships
20% of adults in the United States have sleep apnea; however, up to 90% aren't diagnosed. Many people aren't aware they stop breathing because the interruptions occur while sleeping. Although you may not be aware of the pauses, you might notice your quality of life decreasing from ongoing fatigue. You might attribute it to a bad mattress or stress, but the cause can be more serious than you might realize.
Many patients seek sleep apnea treatment in Casper after a loved one brings certain symptoms to their attention, like loud snoring. Although the snoring may not bother you, it can keep your partner awake. Irritability, depression, and tempers can without getting the rest you need.
In some cases, spouses choose to sleep in separate rooms to solve the problem, but this can lead to the loss of intimacy. It's not uncommon for couples to experience a decline in their physical relationships because untreated sleep apnea can cause erectile dysfunction and loss of libido.
Save Your Relationships with Sleep Apnea Therapy
Many patients with sleep apnea don't comply with their treatment plan because it traditionally involves a CPAP machine, which can be bulky and uncomfortable. It can also be noisy, causing the poor sleep quality in your home to continue. You have a CPAP alternative in Casper to ensure you and your partner sleep soundly.
An oral appliance is an FDA-approved solution to treat mild-to-moderate cases of obstructive sleep apnea. The custom-fit device moves the lower jaw forward to stop the soft tissues from blocking the upper airway. When used nightly, it can significantly reduce or eliminate pauses in breathing.
Not only will you drift off to sleep with ease, but your spouse can stop tossing and turning at night, too. An oral appliance can also treat chronic snoring without the sounds of a CPAP machine. Nothing will stand in you or your partner's way for getting a good night's rest.
Don't let sleep apnea strain your relationships. See if an oral appliance is right for you today.
About Dr. Erin M. Prach
Dr. Prach earned her dental degree from the University of Colorado's School of Dental Medicine before continuing her training on a mission trip to Guatemala. She offers the skills and qualifications patients need for advanced issues, like sleep apnea. If you're ready to cut ties with your CPAP, contact our office today to see if you're a candidate for oral appliance therapy.