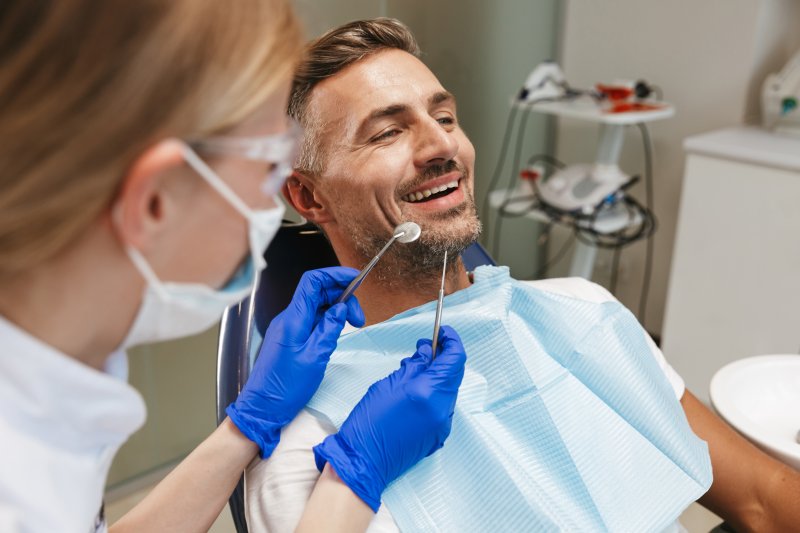 Have you simply been brushing and flossing your teeth every day lately? While this is an essential preventive dental care measure, you should also visit your dentist at least twice a year for the best smile. But what makes a dental checkup so special? Keep reading to learn five important benefits of the early detection of oral health problems!
#1: You Can Save Money
Everyone loves to save their money, especially for the sake of a rainy day. But most people think getting dental treatments is an expensive effort. However, by visiting your dentist for a checkup and cleaning, you'll actually save yourself money by avoiding more serious and costly health issues.
#2: Your Dentist Examines Your Teeth & Gums
Not only will your dentist clean your smile, but they'll monitor the condition of your teeth and gums. Sometimes dental conditions can degrade over time, meaning you won't be able to notice them until they're late in their progression. With a thorough examination, your dentist can check if there are any developing issues that would need treatment early on!
#3: Your Dentist Can Detect & Treat Harmful Diseases
The longer a dental condition remains untreated, the more likely it'll cause a serious health problem, such as strokes or heart attacks. Through a preventive dental checkup, your dentist can detect harmful issues like oral cancer and treat them right away.
#4: You Get Advice on the Best Dental Hygiene Practices
Even if your teeth are already healthy, you'll be glad to learn a few tips on the top dental hygiene practices after your visit. Instead of browsing through the store trying to find good oral products, your dentist can simply recommend the best items for you. They'll also advise you on proper techniques and diet for your teeth.
#5: You Can Get a Boost In your Confidence
If it's been a while since you've seen your dentist, your smile can benefit greatly from a quick professional cleaning. Once you leave the dental office, you'll feel much more confident with a healthier, cleaner, and brighter smile!
Maintaining great dental health is much easier with your dentist's help. Consult with them about a checkup or any other treatment you might be interested in, and they'll be glad to discuss your options.
About the Author
Dr. Erin M. Prach studied at both Eastern Washington University and the University of Colorado's School of Dental Medicine. She continues to seek advanced training and improve her expertise to help boost her patient's confidence and dental health. She offers multiple treatments, from checkups and cleanings to emergency dentistry. If you're interested in scheduling an appointment, feel free to visit our website or call us at 307-337-4770.